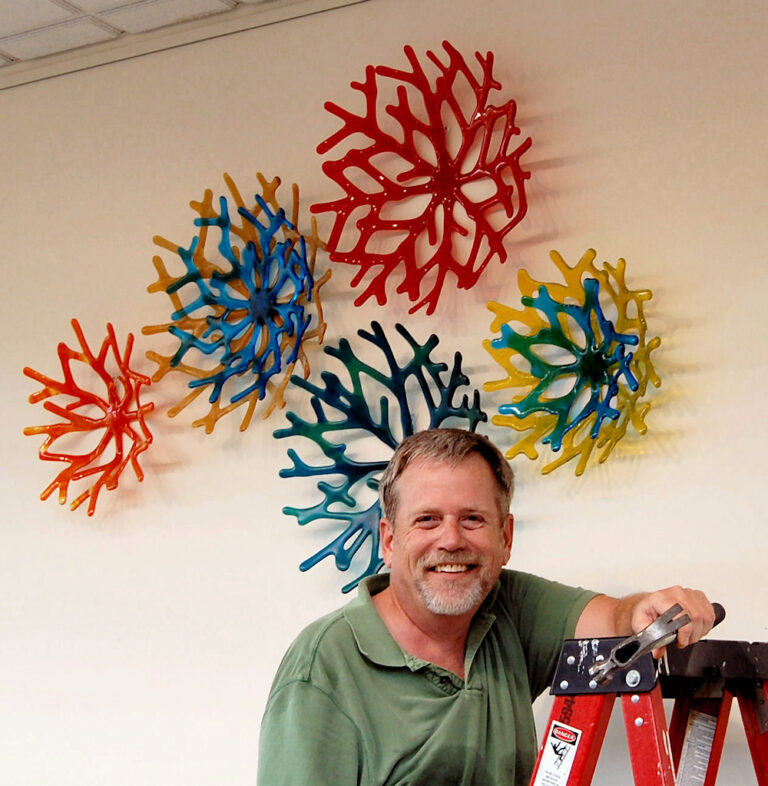 Greg (Gregorie) Rawls has been creating kiln-formed (fused) glass since 2003. He has studied extensively with many accomplished glass artists and has developed techniques for taking kiln-formed glass in new directions. He earned a BS in Biology and a MS in Public Health (Industrial Hygiene) from the University of South Carolina. He lived in Charleston for over 20 years and currently lives in Beaufort, South Carolina. He is pursuing glass art full time with his company, Gregorie Glass, which specializes in kiln-formed glass for art and architecture.
Kiln-formed glass is a very difficult medium due to issues of glass compatibility and the inherent fragility of glass. All of this makes it a most challenging art form. Glass, when properly worked, is amazingly strong and this strength makes a presence that will stand the test of time.
"COURTING FAVORS"
Honorable Mention, Craft Hilton Head
Hilton Head, South Carolina
December 2022
"NEBULA"
Selected for Craft Hilton Head
Hilton Head, South Carolina
December 2018
"EVENTIDE"
Selected for the 2018 Bullseye Glass EMERGE competition
Portland, Oregon
June – September 2018
"SEA GLASS"
ArtFields
Lake City, South Carolina
April 2015
"QUILT OF HUMANITY"
ArtPrize
Top 100 at 2013 ArtPrize in Grand Rapids, Michigan
September 2013
"SEA GLASS"
ArtPrize
Top 100 at 2012 ArtPrize in Grand Rapids, Michigan
September 2012
COOPER RIVER BRIDGE RUN
Poster Artist
March 2012
Greg Rawls – Kiln-Formed Glass – Sculptures & Vessels
Edward Dare Gallery – Charleston, South Carolina
March 2012
"Linear Regression" selected for the 2008 South Carolina State Museum 20th Anniversary Juried Art Exhibition
"Spirit of the Dance" 2006 Piccolo Spoleto Festival Petite Performance Pavilion Poster, Charleston, South Carolina
"I am fascinated by the way light plays off glass, either transmitted or reflected, giving the work new meaning with changing light and viewing angle. I want my work to be simple and expressive, yet convey a sense of color and light in harmony. I have always been inspired by the colors of the Lowcountry. The marsh, ocean and incredible sunsets form my palette." 
The ARTIST is happy to discuss commissions!